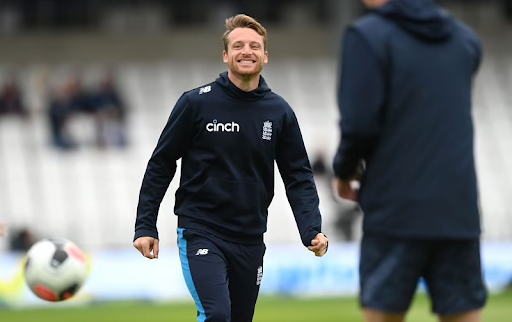 Jos Buttler set to join England in the 5th Test against India
Jos Buttler set to join England in the 5th Test against India
September 7, 2021  Author : ch799
Jos Buttler is expected to return to the England squad for the fifth Test against India in Manchester. Before the Oval Test, he had to leave the Test squad to attend the birth of his second child.

On Thursday, Buttler and his wife, Margot, welcomed their first child. With his return to the team, they may be faced with a middle-order conundrum.

Jonny Bairstow was given the wicket keeping duties in Buttler's absence. Ollie Pope, who made his comeback with a top-of-the-order performance in the first innings, continued his strong form at the Oval.

There has been conjecture that Buttler's red-ball career may be over, but skipper Joe Root has stated that this is not the case.

With Pope settling into the middle order and Bairstow gaining his perfect role with the club, the odds are stacked against Buttler, who is currently in bad form.

With the bat, the wicket-keeper batsman is having a nightmare. With an 18-ball duck at Trent Bridge, his tour got off to a shaky start. He has had a succession of low scores following that, with his greatest score in the series coming in the second innings at Lord's.

Apart from Root, England's middle-order has been a significant source of concern throughout the series. However, the team managed to post a decent first-innings total following the skipper's early dismissal in the Oval Test. Pope's and Chris Woakes' contributions were critical in the team gaining a 100-run lead.

After sustaining a side strain while playing for Lancashire, England's injury worries continue, with pacer Saqib Mahmood a possible doubt for the fifth Test.

Buttler has previously stated that he will not play in the IPL's second leg in the UAE. Glenn Phillips has already been signed as a replacement player for the rest of the competition.