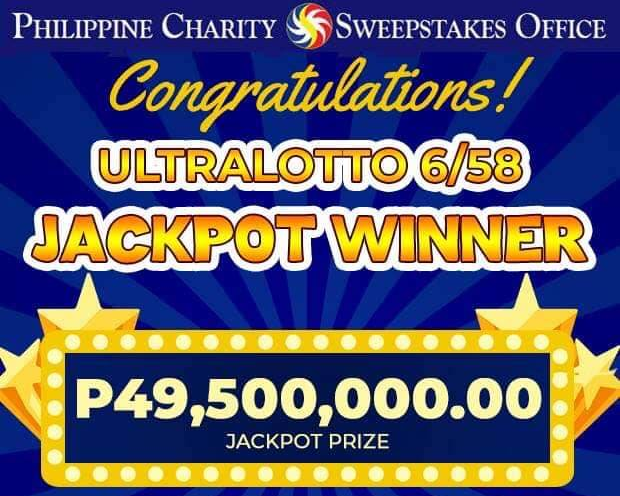 Three in a row! Lone bettor wins 49.5mil Peso in Ultra Lotto 6/58 jackpot prize
Three in a row! Lone bettor wins 49.5mil Peso in Ultra Lotto 6/58 jackpot prize
June 7, 2021  Author : ch799
The Philippine Charity Sweepstakes Office (PCSO) confirmed that a winning Ultra Lotto 6/58 ticket purchased in Lipa City, Batangas, has won the P49.5-million jackpot.

The winning ticket for the Ultra Lotto 6/58 draw on Friday had the winning combination 40, 36, 41, 10, 48, 35.

According to the PCSO's Facebook page, one winning ticket correctly predicted the winning combination for the Ultra Lotto 6/58, which has a total jackpot value of P49,500,000.

Four (4) second-place winners would earn P120,000 each, with 178 third-place winners receiving P2,000 apiece.

Meanwhile, no one correctly predicted the Megalotto 6/45 winning combination, which had a total jackpot payout of P8.9 million. 42, 33, 11, 23, 14, 27 was the winning combination.

While there was no grand prize winner, 19 second-place winners will each earn P32,000 in prize money.

PCSO holds Ultra Lotto 6/58 drawings on Tuesdays, Fridays, and Sundays, and Mega Lotto 6/45 draws on Mondays, Wednesdays, and Fridays.

According to PCSO's statements, the new winning ticket is the third significant prize winner this week.

A player from Makati City in Metro Manila won the P16.7-million Lotto 6/42 jackpot after correctly identifying the winning combination 05, 39, 31, 11, 21, 25 during a draw on Thursday night, May 27.

A bettor from Davao City in Davao del Sur also won the P181.6-million jackpot prize for the Megalotto 6/45 during a draw on Wednesday night, May 26.

With the winning combination 13-01-50-10-51-54, a ticket purchased in Abucay, Bataan, won the P29.7-million Grand Lotto 6/55 jackpot on May 15.

Two gamblers from Iriga City, Camarines Sur, and Davao City, Davao del Sur, won the P101.3-million jackpot for the Lotto 6/42 with the winning combination 15-36-03-24-06-08 during the May 8 draw.

There have already been six huge wins this month — including the most recent one.

Winners must produce their winning tickets, as well as two identity cards, to the PCSO's main office in Mandaluyong City to claim their reward.

The PCSO informed the public that rewards worth more than P10,000.00 would be subject to a 20% tax under the TRAIN Act.

According to PCSO, prizes that are not claimed within one year of the draw date shall be "considered forfeited" under Republic Act No. 1169.